Voiced by Charlie Tahan, Martin Short, Winona Ryder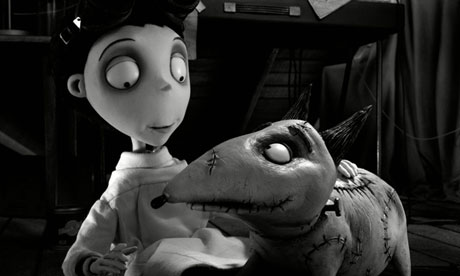 In 1984 a young Disney employee, a certain Tim Burton, created a short animated film called "Frankenweenie" but before it could be turned into something more substantial, the project was rejected for being 'too scary for young children'. The short original can still be watched on Youtube. After a couple of decades and with more credibility to his name, Tim Burton returns to one of his first inventions in this full-length feature.
As you can probably tell from the title, this is an homage to Mary Shelly's classic horror story. Here, a young Victor Frankenstein from the American suburbs in the 50s is a science wunderkind and a rather unusual little boy. He generally splits his time between school, making movies on an 8mm camera and playing with his only friend, his dog Sparky. Early on in the film, Sparky meets a tragic end in a car accident and inconsolable Victor decides to bring his pet back to life. At first it all goes according to plan but, as it usually happens with such crazy/genius ideas, Victor and the resurrected Sparky land into a whole load of trouble.
For those film buffs who love the early Burton creations like "Edward Scissorhands", "Ed Wood" and "Nightmare before Christmas", this feature will prove to be a riot – it has all the elements from the Burton universe – a pale and misunderstood protagonist, good story telling, an unforgiving view at the ignorant and stupid masses and a general sense of delicious grimness. There are some absolutely brilliant moments like the dog's death, Victor's macabre experiments and the science teacher's painfully honest speech. Yet, the film appears a bit dated – not at all because of its deliberate vintage, black and white feel and use of stop animation – it is just a few years too late. If it did see the light of day back in the 1980s it would have been groundbreaking and, probably, much celebrated. However, now in the age of fashionable "darker" re-tellings of every single comic book and fairy tale, "Frankenweenie" just seems to lack that extra something to become a real hit.